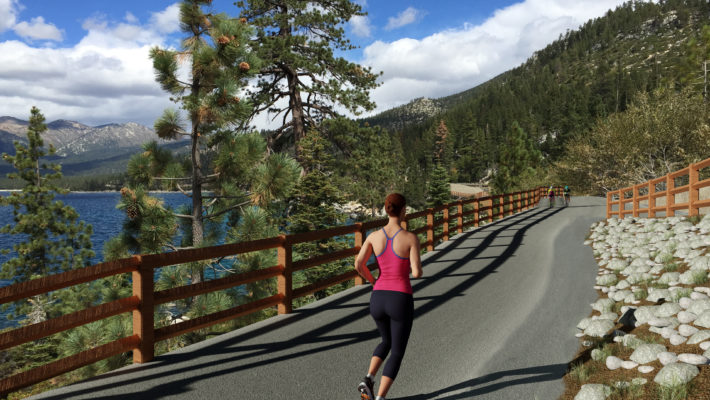 Updated: SR-28 Shared Use Path Overview (Lake Tahoe)
SR-28 Project
We created this 3D Visualization showing the final conditions of the SR-28 shared use path project at Lake Tahoe, NV.  The animation was created as a joint effort between the Nevada Department of Transportation, CH2M and Civil FX.  It was very exciting to work on a project like this.  The area around Lake Tahoe is spectacular and recreating that as part of the animation was exciting.
The animation came about to show some solutions to current infrastructure problems on an 11 mile stretch of Lake Tahoe.  Currently the shoreline is undeveloped even though use along that area is continually growing.  Over 13 agencies banded together to determine what could be done about the problem.  You can read more about the solution and how it will affect that community here.
The managers of this project were thrilled to be able to have a visual representation of what the project will look like when completed.  It will be a great tool for all the parties involved to help gain public support as well as excitement for when it will be completed.
Public Perspective
From the public's perspective, infrastructure projects are often a frustrating and negative experience due to traffic delays from construction.  They aren't caught up in the vision of how many benefits will come once the project is completed.  Their first exposure to the project is stopped in traffic from their car on a crawling commute home.
A good visualization or animation can help change that bad perception and build excitement towards the completed project.  We recently created a 'virtual center' on Project Neon in Las Vegas for example. The local public sees the project as three years of construction and bad commutes.  Our animation renders, interactive model and virtual helicopter tours shown helped to alleviate doubts.   Visually showing the finished projects goes a long way to improve public perception.