CivilFX is a 3D infrastructure and transportation visualization studio located in the Las Vegas area.
Why You Should Use Civil FX
Our team of passionate engineers, artists and developers are all located in the United States
Our visual quality is among the top in the infrastructure visualization industry
In addition to high quality image and video animation renders, our team can also develop innovative visual experiences including virtual reality, touch kiosks, driving simulators and more
We focus our visualization services into 3 levels as outlined below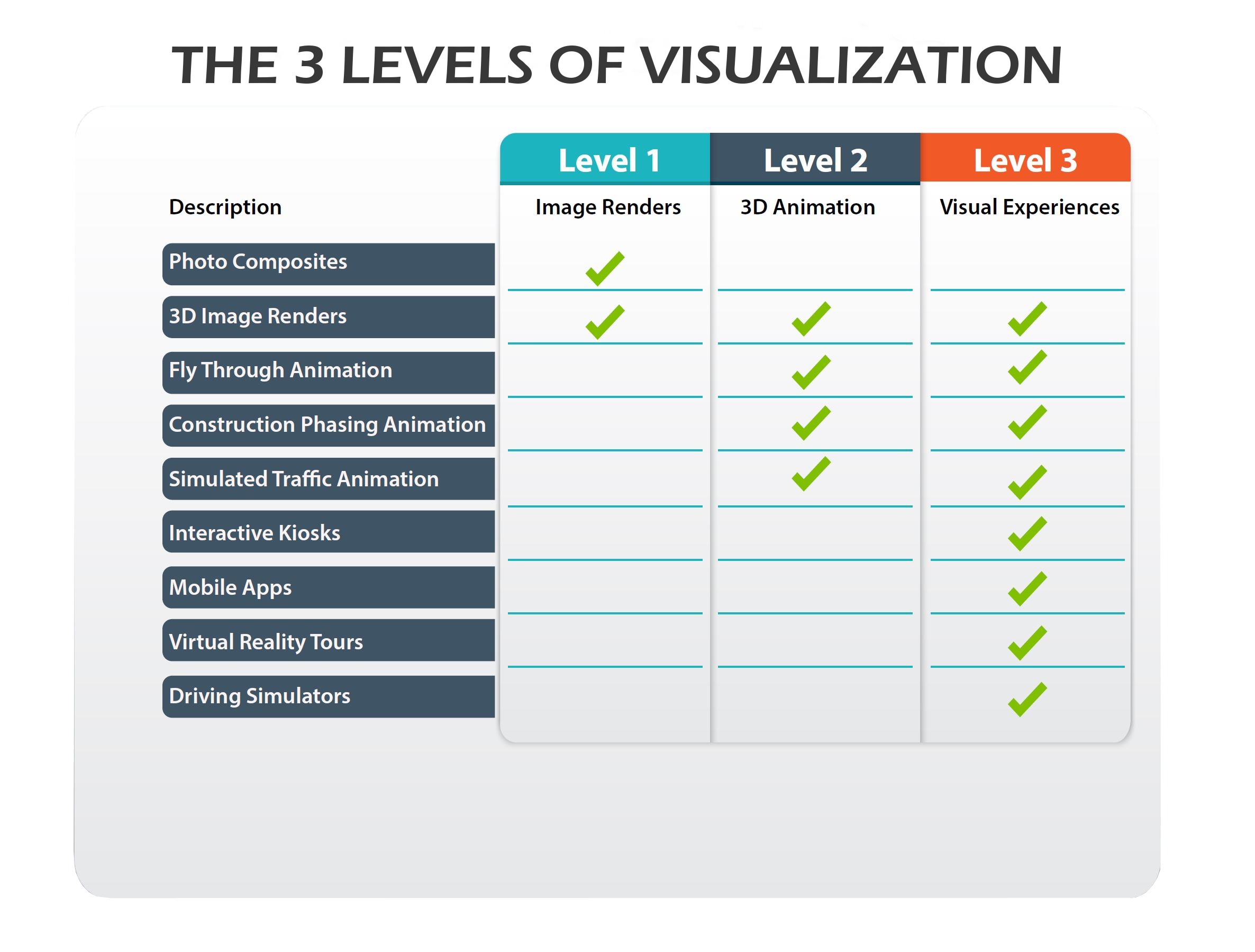 ---
LEVEL 1- Image Renders
Simple 3D image renders or Blending actual photos with 3D renders can be an attractive & affordable way to communicate the vision of your project.
---
LEVEL 2- Animation Renders
Bring your project to life with a video animation to show traffic flows, construction phasing & more.  Click here to see examples.
---
LEVEL 3- Visual Experiences
We are continually pushing the technology into new applications that we call visual experiences.  We are especially passionate about creating interactive, real-time representations of projects for virtual reality tours, interactive kiosks, mobile apps or even driving simulators. Click to read more.
---
SOME OF OUR CLIENTS & PARTNERS
---
All images and videos on this website represent actual Civil FX client work.
---
Visual Simulations
Legal/Right of Way Graphics
Product Vendor Graphics
Night/ Lighting Renderings
Engineering Forensics graphics
Urban Planning Visualization
Complete Street Visuals
Solar Shading Analysis
Property Boundary Exhibits
Before/After Comparison
Line of Sight Studies
Marketing Visuals for Contractors
Traffic Simulation Visualization
---
Accurate 3D Visualization for Transportation and Other Civil Projects
Civil FX is a 3D visualization and animation studio located in the Las Vegas, Nevada area. We work with clients in Nevada and throughout the world. Our expertise is on visuals and animations for transportation projects, infrastructure renderings, construction phasing and proposal graphics for alternative delivery projects. 
"Civil FX approaches a problem with an engineering mindset with the ability to see the big picture."Dale Keller, NDOT Project Manager
"Every time that I have a visualization/modeling need, Civil FX is my 'go to' firm."Bardia Nezhati, CH2M Hill
"Sam is an expert in his field; graphically and professional he was able to provide the rendering that depicted exactly what my client needed to see to understand the concept we were presenting. I will not hesitate using Sam next time I need a rendering for a proposal."James Moore, HydroArch
"Lincoln County Power District (LCPD) needed to complete a sun study to determine the appropriate spacing between the solar arrays for an upcoming project. LCPD was impressed with how quickly and affordably Sam and the Civil FX team built the project based on our specifications. Sam was able to create a very appealing, realistic, virtual 3D animated overview of our solar project which LCPD intends to use in our public outreach efforts . We look forward to working with Civil FX on future phases of this and other projects."Kyle Donohue, Lincoln County Power District
"We were looking to explain a renovation concept for a hot springs park facility using a video animation and what Sam and Civil FX provided completely exceeded our expectations in every way. We are now confident that we can clearly and accurately communicate our vision with stake holders so that we can raise enough funds and awareness to reopen Little Ash Springs."Robin Rowley, President of Friends of Pahranagat Valley